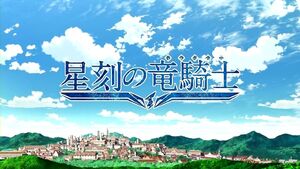 The Dragonar Academy anime is produced by C-Station and directed by Shunsuke Tada. It broadcasted in Japan from April 5 2014 to June 21 2014, The anime version adapts the novels from Volumes 1-4. Each episode first aired every Sunday at 7:00am JST. It is also available for simulcast online from Funimation Entertainment.
The Opening theme is Seiken Nante Iranai by Yui Sakakibara, and the ending theme is MOST Ijō no 'MOSTEST' by Mariya Ise & Ayane Sakura & Marina Inoue.
Staff
Director: Shunsuke Tada, Tomoyuki Kurokawa
Series Composition: Noboru Kimura
Music: Takatsugu Wakabayashi
Original Creator: Shiki Mizuchi
Original Character Design: Kohada Shimesaba
Sound Director: Toshiki Kameyama
Director of Photography: Daisuke Horino
3D Background Modeling: Shinpei Ōhata
Animation Producer: Ryoji Maru
Assistant: Daisuke Kobayashi
Color Design: Makiko Kojima
Online Editor: Masami Suzuki
Episodes
Number

Title

Airdate

1
少年と竜
A Boy & His Dragon
April 5, 2014
2
二人の絆・星精路(アストラル・フロウ)
Ties That Bind: The Astral Flow
April 12, 2014
3
市街動乱
Riot in the Streets
April 19, 2014
4
鉄血戦乙女 (アイアンブラッド・ヴァルキリー)
Iron Blood Valkyrie
April 26, 2014
5
蒼氷姫君 (アイスブルー・プリンセス)
Ice Blue Princess
May 3, 2014
6
青の聖騎銃 (ブリューナク)
Blue Brionac
May 10, 2014
7
ルッカ・サーリネン
Lucca Sarlinen
May 17, 2014
8
月下の咆哮
Moonlit Roar
May 24, 2014
9
騎竜演舞
Dragon Dance
May 31, 2014
10
集結の都、フォンティーン
Assembly in Fontaine
June 7, 2014
11
ユグドラシル起動
Yggdrasil Rising
June 14, 2014
12
星刻の竜騎士(ドラグナー)
The Star-Branded Dragonar
June 21, 2014
References
Community content is available under
CC-BY-SA
unless otherwise noted.