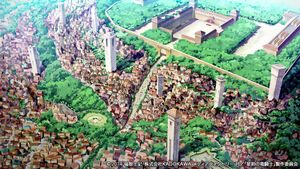 Ansarivan Dragonar Academy
(

アンサリヴァン騎竜学院

Ansarivan Kiyuu Gakuin

)
is the school where
Ash
and his fellow students attend, and the main stage of the
series
.
Background
It is the highest education institute of the Lautreamont Knightdom for dragon-training, and otherwise known as an academy city to the locals and students. Any student who attended the Orphan Ceremony, are accepted regardless of nationality. The school follows an escalator-curriculum, where students spends the 3 years taking the Unios Course (基礎課程(ユニオス), Unios Course), and then advancing to the Senios Course (上級課程(シニオス), Senios Course) for 3 more years.
The entire facility structure is compromised of:
Apollo Halls (

アポロ舎

), the Senios boy's dormitory.
Mercurius House, the Unios boy's dormitory.
Epona Halls (

エポナ舎

), the Senios girl's dormitory.
Maeve House, the Unios girl's dormitory
La Teene (

ラ・テーヌ

), the school cafeteria.
The 7th Dragon Halls (

第七竜舎

) is the dragon stable for Maestros.
Julius Inn (

ジュリアス館

), the Inn where Julius Lautreamont lived during his stay in the academy. It was sealed for over a year since the taboo incident, but reopened when the first crown prince's name is cleared.
Faculty
Student Body
​1st Year
2nd Year
Trivia
The 3-year curriculum of Unios and Senios is equivalent to the real world's middle-school and high-school division.
Community content is available under
CC-BY-SA
unless otherwise noted.